Applies to: Scarlett 2nd Gen (6i6, 18i8 & 18i20) and Clarett interfaces.
If you are encountering a 'No Hardware Connected' message in Focusrite Control, please take a moment to go through the following troubleshooting steps.
Please note: Focusrite Control will NOT detect 1st or 2nd Gen Scarlett Solo, 2i2 or 2i4 interfaces, nor will it detect any 1st Generation Scarletts (which use Scarlett Mix Control instead). This is normal behaviour.
Initially, it is important to ensure the Mac/PC itself is detecting the Scarlett 2nd Gen / Clarett / Red interface.
Mac
On Macs, go to Apple Logo > About This Mac > System Report > Hardware > USB (Scarletts) / Thunderbolt (Claretts). If the hardware is detected, it will be displayed in the main window as shown below.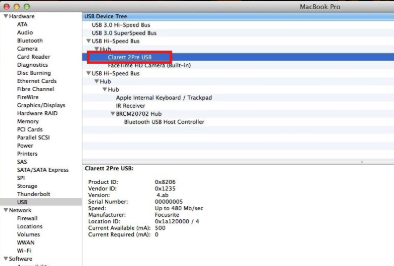 If the hardware is shown here, but Focusrite Control shows 'No Hardware Connected', please ensure that you've installed the latest version of Focusrite Control from the Downloads section of our website (or from your Focusrite.com account).
If you're running macOS High Sierra (10.13) or later you may also need to approve the driver installation manually before it will load correctly, please see this article.
PC
On Windows systems, you can take a look in Device Manager to check your interface is being detected. Focusrite interfaces will appear under both the 'Sound, Video & Game Controllers' option, and the 'Focusrite Audio' option.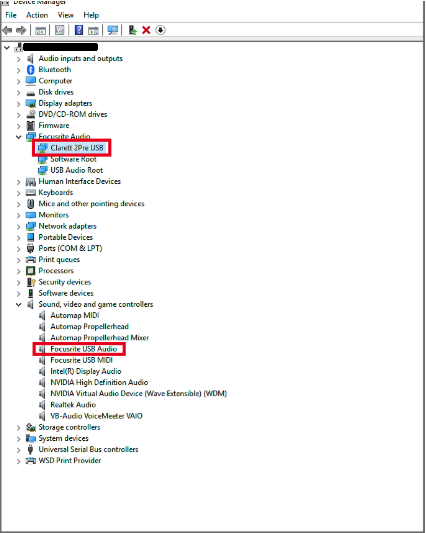 If the hardware is shown here, but Focusrite Control shows 'No Hardware Connected', please check the following;
1) Check that Focusrite Control program has been installed onto the main C: drive of your computer. Installing it to a secondary drive can cause issues with detection of the audio interface.
2) Check that the Focusrite Control Server is running. To do this;
Right-click the Windows 'Start' icon and select 'Control Panel'

Type 'local' in the search bar

Select 'View Local Services'

Find 'Focusrite Control Server' in the list and highlight it

If the service is currently stopped, please select 'Start' on the left side of the screen

If the service is already running, please select 'Restart' on the left side of the screen
3) Check your Firewall/antivirus is not blocking the Focusrite Control Server from running. Note this is only relevant if you have 3rd party firewall/antivirus software installed - Windows Defender will not cause this issue. How to allow certain processes and folders through as exceptions will differ depending on the program, but typically, you will have the option to select a Process
in which case select 'Focusrite Control'
or a Folder
C: > Program Files > Focusrite
C: > Program Files > Focusrite > Server.
4) The Scarlett may not be connecting if Windows has assigned the incorrect driver to the device or it is not assigned correctly. Please disconnect the Scarlett, restart your computer and connect the Scarlett to a different USB port to allow Windows to assign it correctly.
5) If using Windows please use a USB 2 port rather than USB 3 (USB 3 ports are indicated by being blue on the inside)
Should any further assistance be required, our Technical Support team can be contacted here.