Applies to: Clarett Thunderbolt, Saffire, Saffire 6 USB(1.1) Red Interfaces
Starting in macOS 10.13 'High Sierra', Apple have introduced a system that will automatically prevent users from running driver software unless the user manually allows each driver individually from System Preferences. Once the user has allowed the driver manually in this window, all other driver software by that developer will be allowed to run automatically without having to repeat the steps to unblock.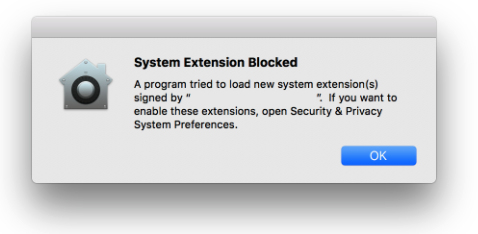 You may see the above error message after installing a piece of Focusrite software and restarting the computer. If you do nothing at this stage then your Clarett/Saffire/Red device will likely not work correctly. To fix the problem, as the error message suggests, you need to go to Apple Logo > System Preferences > click 'Security and Privacy'. In there, click the 'Allow' button in the lower right corner: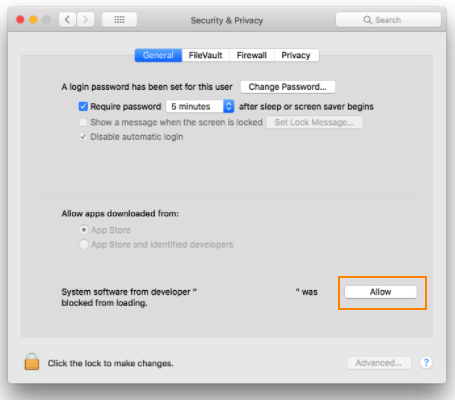 After clicking the "Allow" button you'll be presented with a list of software/drivers that have been blocked. Tick the checkbox next to anything with 'Focusrite' or 'TC Technologies' in the name, then click OK and select the option to restart the computer.
Clarett Thunderbolt users - please note that the driver installer is not included with the Focusrite Control package and is a separate installer available on the Downloads page for your product.
NOTE: newly installed software/drivers will only appear in the list for the first 30 minutes after the driver/software in question has been installed. If the Allow button isn't showing for you or the driver you wish to load isn't showing up on the following screen, simply reinstall your Focusrite software again and restart the computer (it's not necessary to uninstall anything before trying this). Once your computer has restarted go to System Preferences > Security and Privacy immediately after your computer has booted up and the option to "Allow" the driver/software to load should reappear.
If you are still unable to get the "Allow" prompt to appear, please try creating a new Administrator account then follow the procedures outlined above. The driver should then be allowed for all user accounts on the computer.
If you encounter any problems please contact Technical Support