Applies to:
Scarlett Solo and Scarlett 2i2
iTrack Solo
The above interfaces allow you to directly monitor the signal you're recording using the Direct Monitor switch.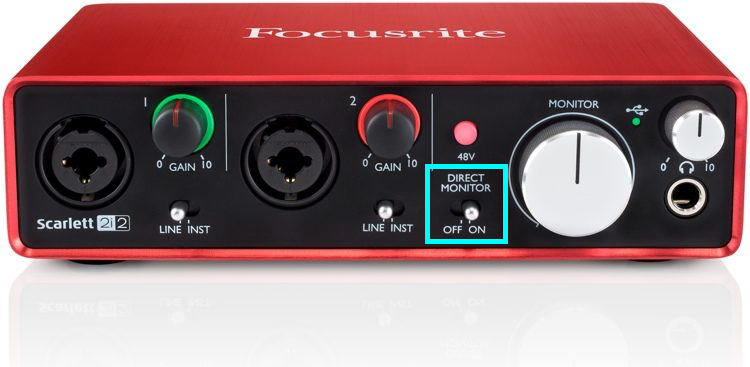 Direct monitoring allows a user to listen to the input signal of the interface with near-zero latency. It takes the input signal on the interface's inputs and sends it straight to the headphone and line outputs on the device. The signal will also be sent to your daw software allowing the input to be recorded at the same time.
1st & 2nd Gen Models
Although these interfaces have two inputs, the signal heard back when using the Direct Monitor switch will be in mono, meaning that both inputs will be heard in both ears. To hear the inputs you're recording back in stereo, we recommend monitoring back from your software instead (being sure to turn off Direct Monitor so that you don't hear two instances of the signal).
Alternatively, the rest of our range of interfaces, such as the Scarlett 2i4 and up will allow you to directly monitor in stereo (see this article for information on how to use the Direct Monitor dial on the Scarlett 2i4).
Scarlett 2i2 3rd Gen
The Scarlett 2i2 3rd Gen features a Direct Monitor button with three selectable modes; off, mono and stereo. This is indicated by the green illuminated symbols below the Direct Monitor button.

No Circle = Off
One Circle = Mono
Two Linked Circles = Stereo
The interface will cycle through each mode when the Direct Monitor button is pressed.
If you have any further questions please contact us here.