Applies to: All current Focusrite audio interfaces
This article will explain how to set your Focusrite audio interface Zoom's audio device which allows you to get audio from your microphone/instrument and computer audio into your calls.
Please see the following article if you are on a Mac computer: How to set up your Focusrite audio interface with Zoom on a Mac
Requirements: We recommend creating a Zoom account and downloading/installing the Zoom Client for Meetings desktop application from the Zoom website here, as the web client has limited features.
Setting the audio interface as the audio device
To set your Focusrite interface as the audio device in Zoom, please ensure your interface is connected and powered, and open up Zoom.
1. Navigate to your Account > Settings.

2. Set the Microphone (Input) and Speaker (Output) to the audio interface you would like to use.

3. Speak into the microphone connected to the audio interface. You will be able to see a visual indication on the 'Input Level' meter. This indicates an audio signal is being received by Zoom.
Other Setup
If you are using a condenser microphone (for example the CM25), please ensure 48V phantom power is enabled on the front panel of your interface.
To confirm the quality of your incoming audio signal, you can create a test recording and listen back.

Zoom will only be able to receive audio from two inputs of your audio interface. You can choose which two inputs you wish to use, but first you need to follow the steps in this article. This is because Zoom does not support multi-channel ASIO driver types. 
By default, Zoom will sum these inputs to mono. This means your caller can hear both inputs in both sides of their headphones/speakers. If you are recording a stereo source and wish for the caller to hear one input in the left side and one input in the right side of their headphones/speakers, you can select Enable Stereo sound in the Audio Settings tab of Zoom.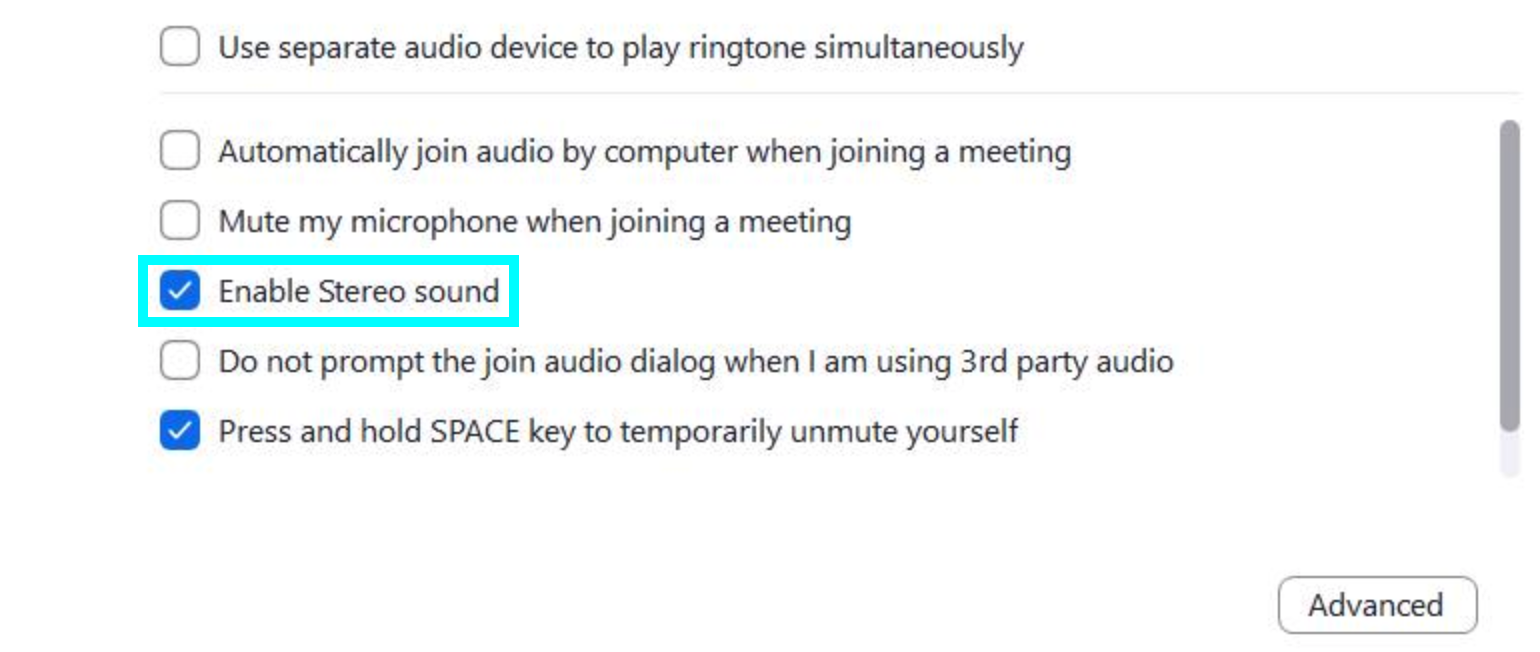 If you have one of our larger audio interfaces and you wish to get more than two inputs into Zoom AND/OR you wish to set up separate mixes of audio for what you hear in your headphones/speakers and what the Zoom caller(s) is hearing, please follow the steps in the below articles.
Focusrite Interfaces that use Focusrite Control:
How to use several inputs on your Scarlett (3rd Gen) within video call software on Windows
How to use several inputs on your Scarlett (2nd Gen) or Clarett USB interface within video call software on Windows
Focusrite interfaces that use Scarlett/Saffire Mix Control:
How to create a Mix suitable for Video Calls, Conferencing, and Lesson Calls using Scarlett (1st Gen) or Saffire interfaces
Sharing audio from your computer
As well as receiving input from your microphones/instruments connected to your audio interface, Zoom also allows you to share any audio that is playing locally on your computer with your caller(s).
To enable this feature:
1. Select the Share Screen button. Whilst on a call this is at the bottom of the screen.

2. Click the Advanced tab and select Music or Computer Sound Only. Of course, you can choose to share the images from your screen in addition if you wish.