Applies to: Vocaster One & Vocaster Two
If you are working with video, you may want to record audio from your Vocaster into a video camera. Vocaster One and Vocaster Two each have a dedicated 3.5 mm TRS jack output for this purpose located on the rear panel. This is marked by a camera icon as shown below.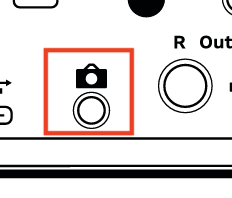 You can connect this output to the microphone input on your camera using a 3.5mm TRS jack-to-jack cable. If your camera's microphone input uses a different connector, use a suitable adaptor cable.
You need to select your camera's external audio source rather than its internal microphone.
Vocaster's camera output carries the same mix as the USB recording output, and what you hear in your speakers and headphones. You can set the mix and levels going to the camera using the sliders in Vocaster Hub's mixer.