Applies to: All audio interfaces
Discord are aware of a problem that can cause audio to glitch or cut in and out on their Mac app. This affects all audio interfaces on the market, not just Focusrite audio interfaces.
For more information please see Discord's article here: Audio Interface issues on macOS - Discord
As iShowU Audio Capture is no longer supported on modern macOS versions, SWB Audio App is the recommended replacement for macOS 11 Big Sur or later. See this article for reference.
Workaround Method
1. Install iShowU Audio Capture from here. After installing this on macOS High Sierra or above you will need to go to System Preferences > Security & Privacy and select "Allow". Note that SWB Audio App is the recommended app for macOS 11 Big Sur or later, however you can find alternative apps listed at the bottom of this article - the setup is essentially the same.
2. Then, open Finder > Applications > Utilities > Audio MIDI Setup - you should see the application here if it has been installed correctly.
Click on the + symbol and then select Multi-Output Device.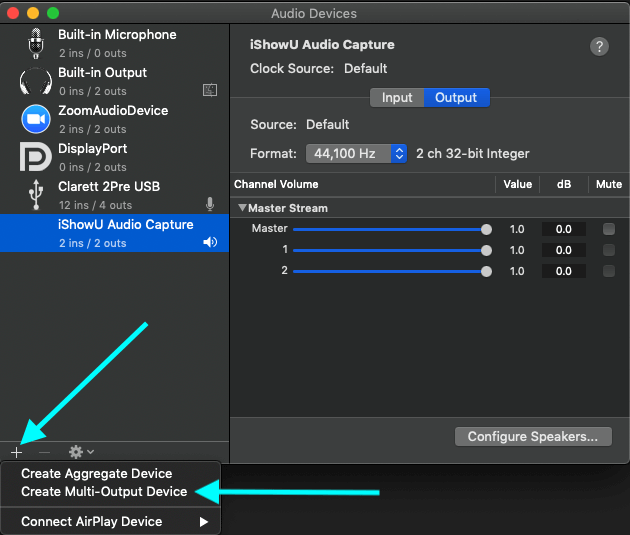 3. Make sure iShowU Audio Capture and your audio interface are selected.
4. In a Digital Audio Workstation (Garageband is free on Macs), select your audio interface as the Input device and "Multi-Output Device" as your Output device.

5. In Discord's audio settings, set the input to iShowU Audio Capture, and the output as your audio interface.

6. Add any audio tracks into your DAW and select the input(s) you're using on your audio interface. Enable "Input Monitoring" on the track so the audio is picked up in Discord.
You can then change the volume of each of your inputs using the channel faders. You can add effects to the inputs such as compression and EQ, and transmit the sounds of any software instruments the DAW has. You will need to make sure the buffer size is set quite low in your audio settings to avoid sync issues between your video and your audio, however.


*There are alternative virtual audio drivers like iShowU Audio Capture that may work in a similar way such as "Blackhole" and "Loopback", but iShowU Audio Capture is the application our support team have tested with.
If you're having audio issues using Discord on Windows, please see this article instead.