Applies to: all audio interfaces
You may find that when you record within your chosen recording software (DAW) you hear the recorded audio through only your left or right headphone/speaker.
A common question is "How do I get my mic/guitar to record in stereo?"
This issue is usually caused by recording a mono source (one mic or one guitar) onto a stereo audio track. To avoid this, ensure that when you add an audio track to your DAW, you set it so that the input is mono. In some DAWs, you can select the input to be mono when you add a new track, whereas, in other DAWs, you need to set the input to be mono after adding the track.
Here are some examples of what this looks like in some common DAWs:
Select the input your mic/guitar is connected to and ensure the icon shows a single circle to indicate it's mono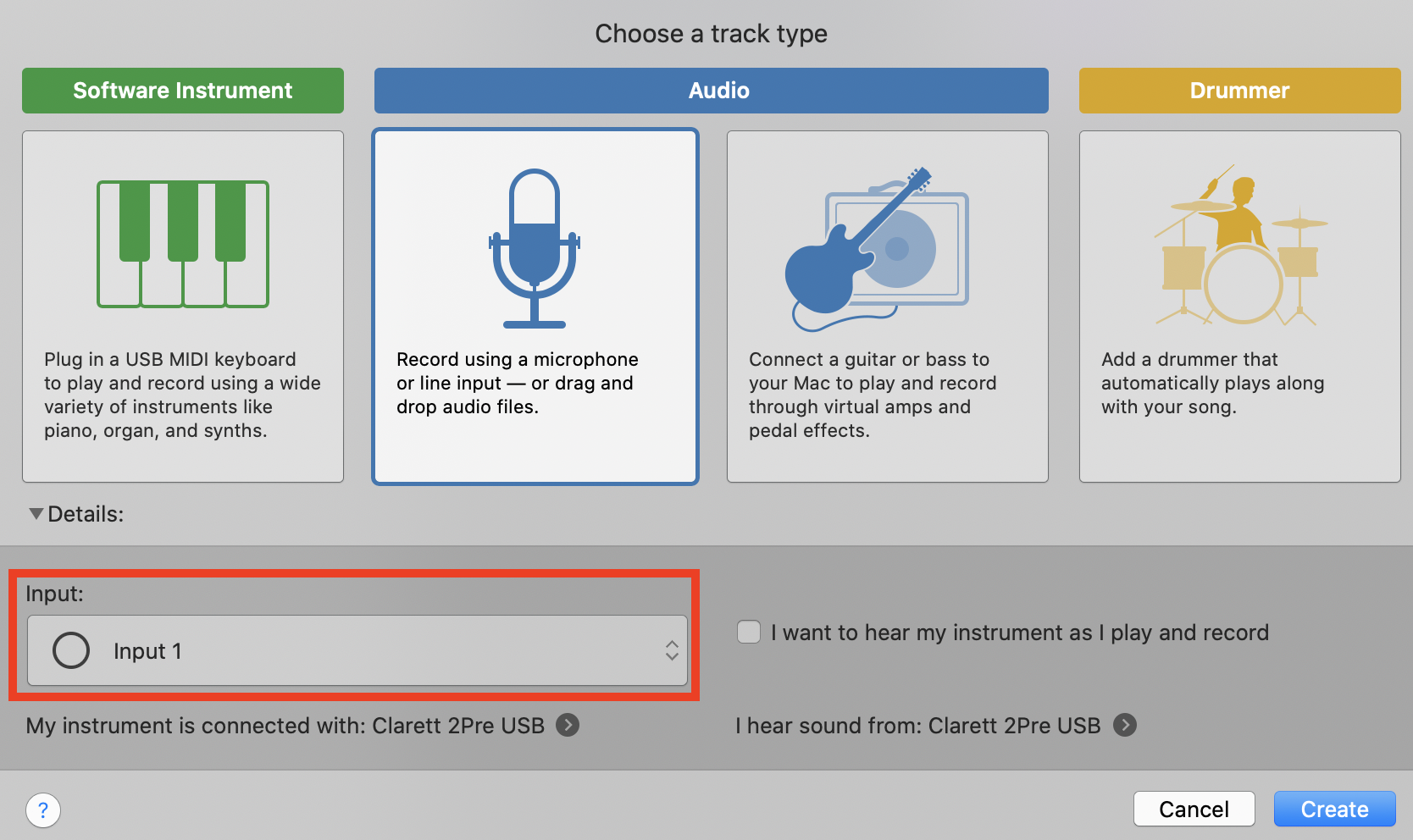 The button indicated with the arrow will show a single circle if it's set to mono. If it doesn't look like the icon below, click on it to change it to mono.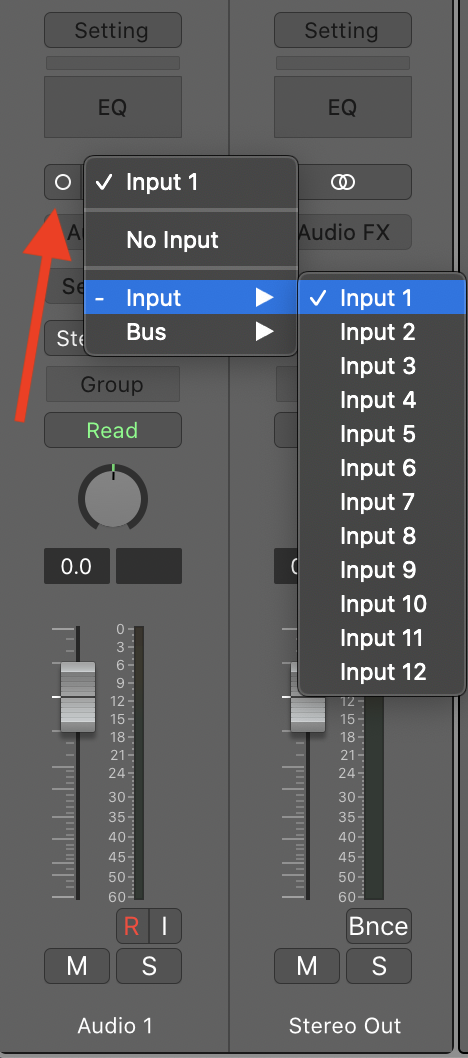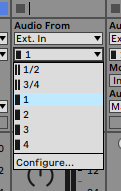 Ensure that you have created a Mono Track (Track > New) first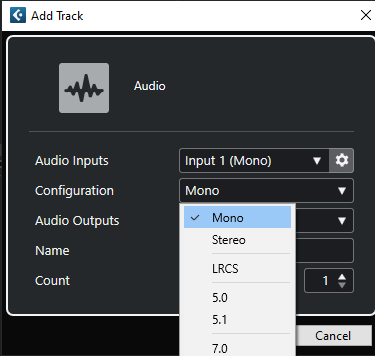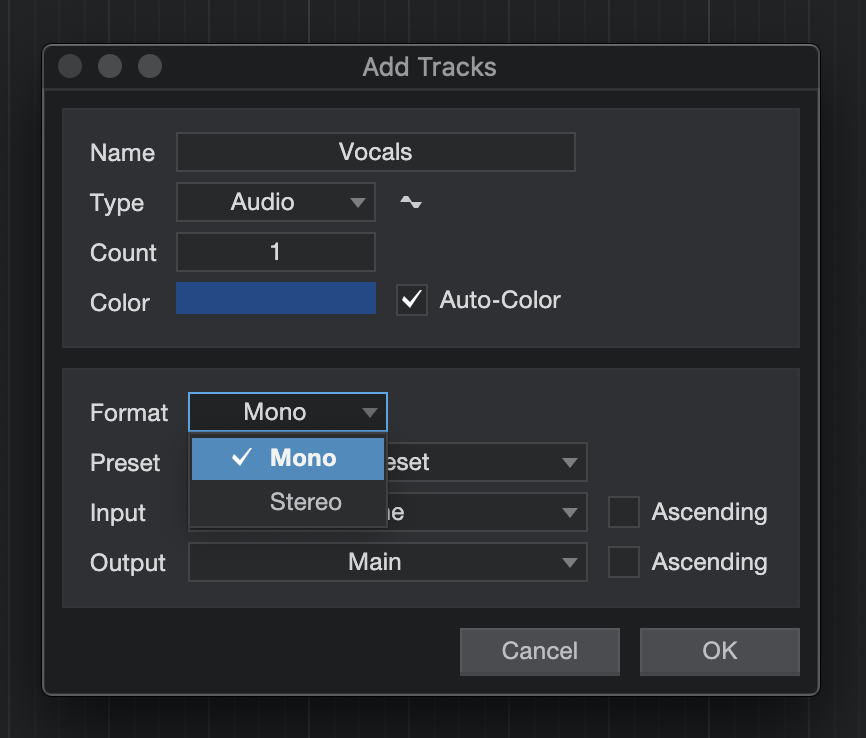 While the input will be mono, the Output of the audio track will be stereo by default. This means you can hear your mic/guitar on the left and right sides of your speakers/headphones.
If you are trying to record another mono source simultaneously, you should add another track in your DAW and set the input to be mono again. For example, if you wanted to record an electric guitar connected directly to an input on your audio interface (e.g. Input 1) and some vocals through a microphone connected to another input (e.g. Input 2), recording onto two audio tracks set to mono will allow you to hear the guitar and vocals through both speakers/headphones (i.e. Track 1 = Input 1, and Track 2 = Input 2).
You will likely find that most of the time you will configure your input to be mono. However, on some occasions, recording onto a track where the input is set to stereo is useful. Please see some examples below:
| | |
| --- | --- |
| Mono Input | Stereo Input |
| Recording vocals with a single microphone | Recording an acoustic guitar with a two-microphone configuration (spaced pair, X-Y etc.) |
| Recording an electric guitar directly into the Instrument input on an audio interface | An electric keyboard/synthesiser with a Left and Right output |
| Recording a monophonic synthesiser | Recording a choir with a two-mic configuration (X-Y, Blumlein, ORTF etc.) |
Other Troubleshooting
If you're finding that you can hear audio stronger on one side than the other, and you're using headphones, the issue may be with the type of headphones/adaptor you're using. Please look at this article for more information:
Why does audio from my headset sound unusual?
It is also worth noting that these steps are only applicable to DAW software, where you can choose how you wish to have your inputs configured. This is not applicable to Streaming or VoIP applications, which often have their own way of dealing with audio input. For any VOIP or streaming application setup, please follow this article below:

How to live stream and video call with your Focusrite interface