Applies to: Scarlett 4i4 3rd Gen
The Scarlett 4i4 3rd Gen audio interface is powered via the USB connection to your Mac or PC – it does not require an external power source to function.
As with all Scarlett 3rd Gen interfaces, the Scarlett 4i4 can be connected to a USB A port (using the supplied USB cable) or a USB C port using a USB C to USB C cable (not supplied). The performance will remain the same regardless of which port you use.
USB type A

USB type C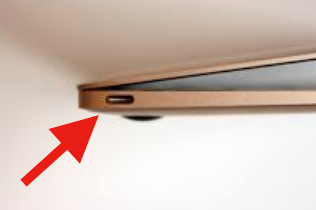 *Important* If connecting to a USB A port, you must ensure this is a USB 3.0 port. USB 2.0 ports will not be able to provide the Scarlett 4i4 with sufficient power.
USB 3.0 ports can usually be identified by a blue section inside the port (see below) though if you are in any doubt, we would advise checking with your computer's manufacturer.
If you require any further information, please contact Technical Support here