Applies to: Scarlett 4i4 3rd Gen
Scarlett 4i4 3rd Gen requires 900mA of power for complete operation. All USB 3.0 and most USB 2.0 ports* are capable of providing this level of current.
The Scarlett 4i4 3rd Gen audio interface is powered via the USB connection to your Mac or PC – it does not require an external power source to function.
As with all Scarlett 3rd Gen interfaces, the Scarlett 4i4 can be connected to a USB A port (using the supplied USB cable) or a USB C port using a USB C to USB C cable (not supplied). The performance will remain the same regardless of which port you use.
USB type A

USB type C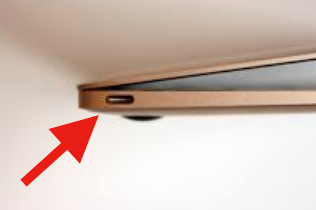 The Scarlett 4i4 consumes the highest power of all the bus powered Scarlett devices, in some high power situations, such as playing headphones at a high volume, some computers may not be able provide enough power and the 4i4 could be disconnected. If you experience this behaviour we recommend you ensure you're using a USB port that can supply 900mA of current.
*If you are not sure whether your computer's USB 2.0 port can supply this level of current, please contact your computer's manufacturer for more information.
If you require any further information, please contact Technical Support here