Applies to: All current Focusrite audio interfaces
This article will explain how to set your Focusrite audio interface Zoom's audio device which will allow you to get audio from your microphone/instrument and computer audio into your calls.
Please see the following article if you are on a Windows computer: How to set up your Focusrite audio interface with Zoom on Windows
Requirements: We recommend creating a Zoom account and downloading/installing the Zoom Client for Meetings desktop application from the Zoom website here, as the web client has limited features.
1. Setting the audio interface as the audio device
With your audio interface connected, please navigate to Zoom.us > Preferences > Audio and set your microphone input to the audio interface you would like to use.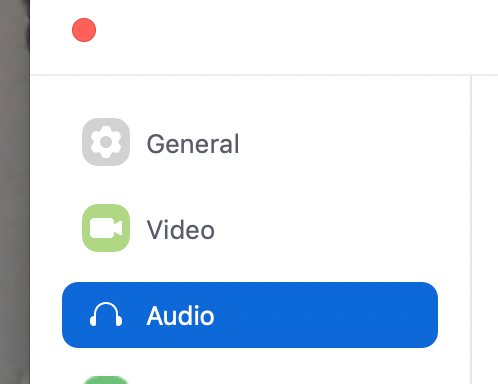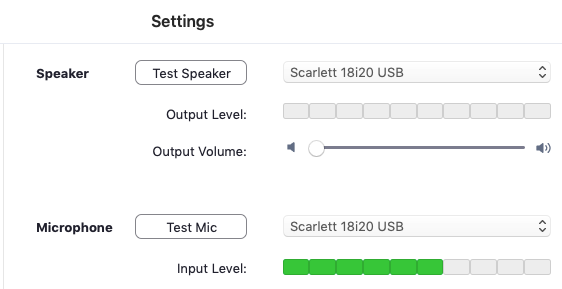 When you speak into the microphone connected to the audio interface you will be able to see feedback on the input level meter which indicates an audio signal is being received. Please ensure 48V phantom power is enabled on your interface if you are using a condenser microphone.

To confirm the quality of your incoming audio signal, you can create a test recording and listen back.

Please note that Zoom will transmit audio from all of the inputs of a connected audio interface and there is no way to alter the volumes of each individual input in the application. Please see step 3 for a workaround to this.
2. Sharing audio from your computer
As well as receiving the input from any microphone/instrument that has been connected to your audio interface, Zoom also allows you to share any audio that is playing locally on your computer. To enable this feature, select the Share Screen button whilst on a call.

Then, click on the Advanced tab and select Music or Computer Sound Only. Of course, you can choose to share the images from your screen in addition if you wish.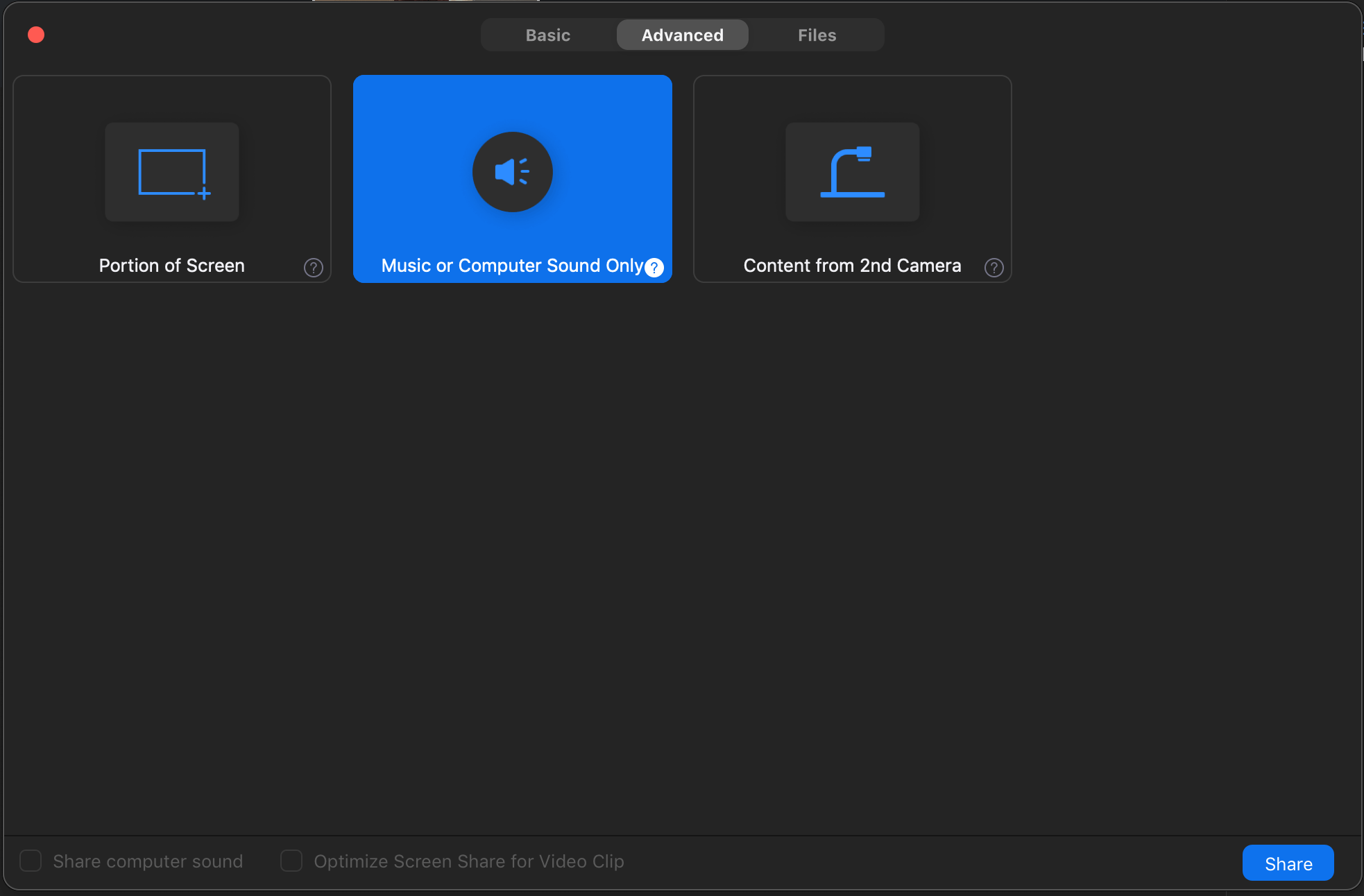 At this stage, you will be asked to install the Zoom audio device which is needed to share the computer's audio. Enter your Mac's password to allow the installation. After it has installed, it will automatically be selected as your Mac's output device.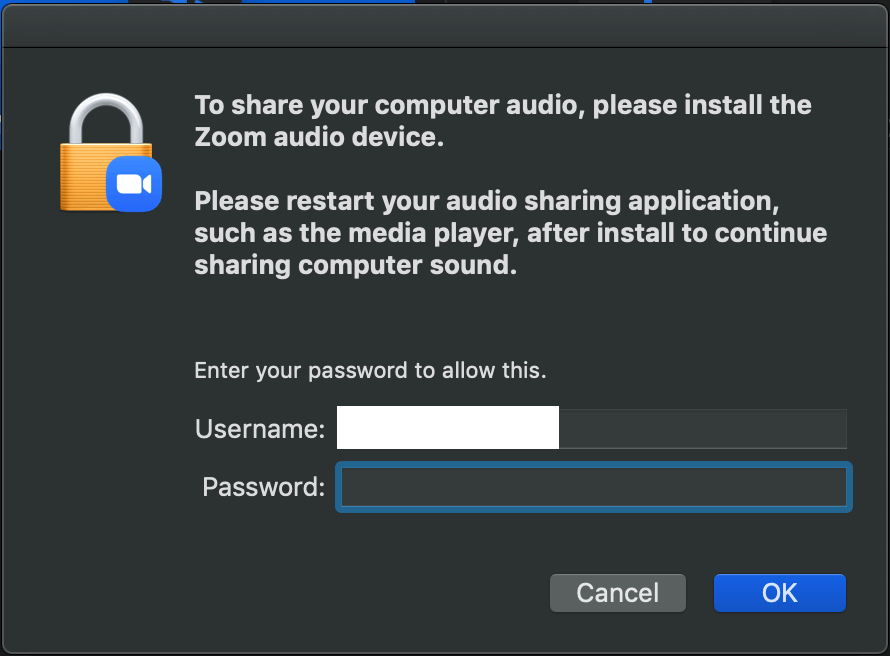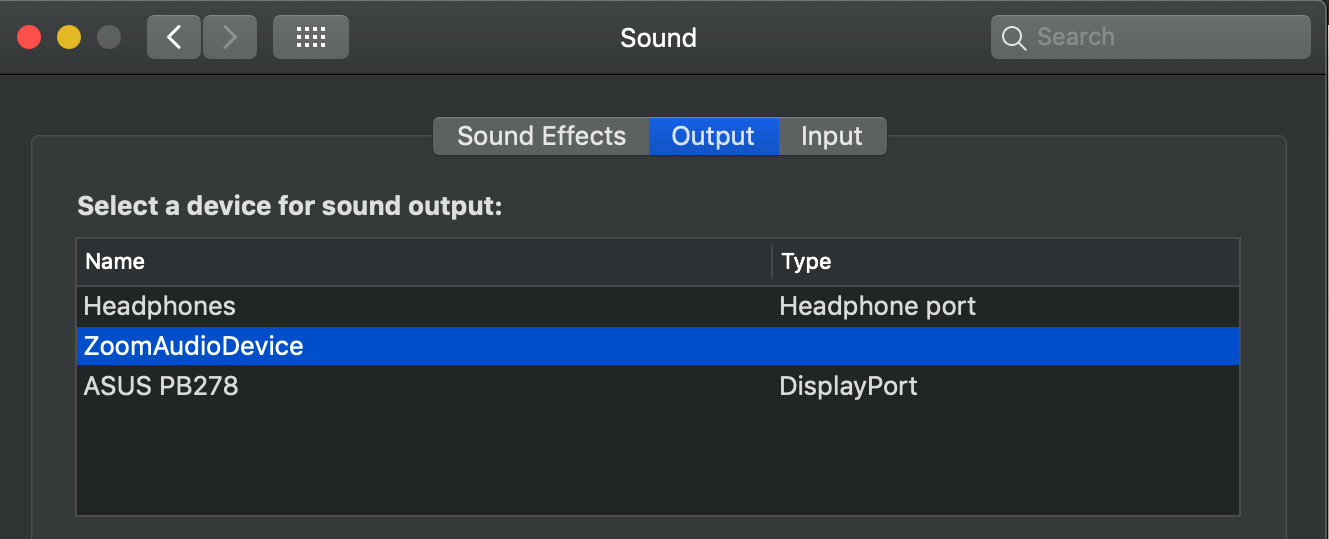 3. Altering volumes when using multiple inputs
If you are using several inputs and transmitting several channels of audio into Zoom and you wish to control the volumes of each input individually or add any audio effects, then the best way to do this with on a Mac is to host your interface in a DAW. You can then use a utility application such as iShowU Audio Capture to share the audio from your DAW into Zoom.
1. Install iShowU Audio Capture from here. After installing this on High Sierra or above you will need to go to System Preferences > Security & Privacy and select "Allow".

2. Then, open Finder > Applications > Utilities > Audio MIDI Setup - you should the application here if it has been installed correctly.
Click on the + symbol and then select Multi-Output Device.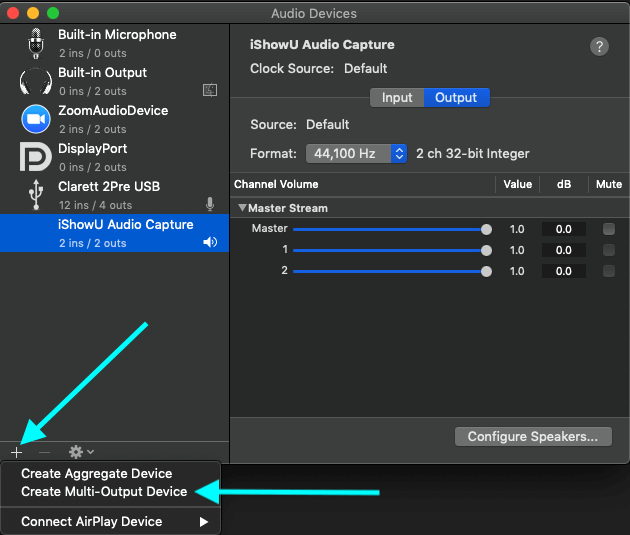 3. Ensure iShowU Audio Capture and your audio interface are selected.
4. In your DAW, select your audio interface as the Input device and "Multi-Output Device" as your Output device



5. In Zoom's audio settings, set the microphone to iShowU Audio Capture, and the speaker as your audio interface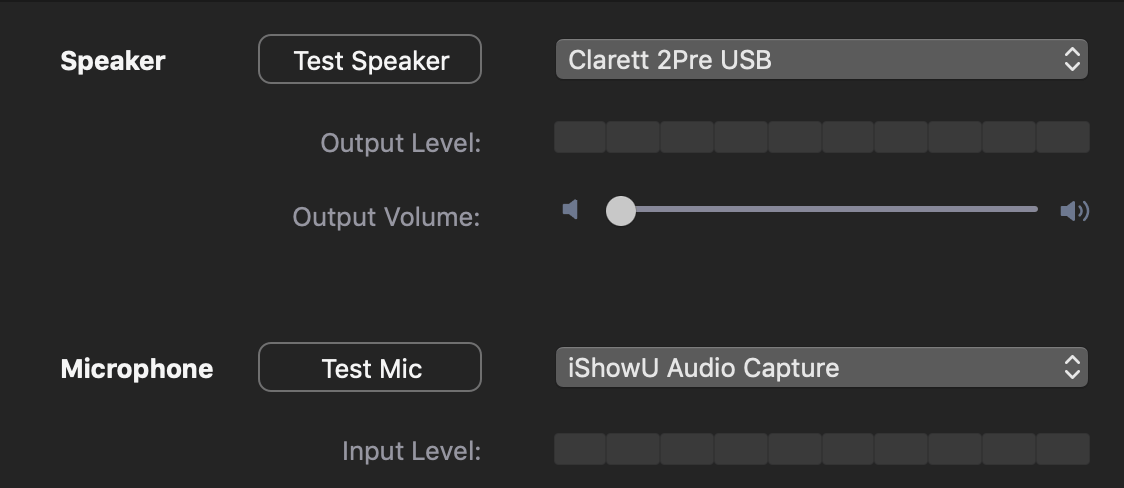 6. Add any audio tracks into your DAW and select the input(s) you're using on your audio interface. Enable "Input Monitoring" on the track so the audio is picked up in Zoom.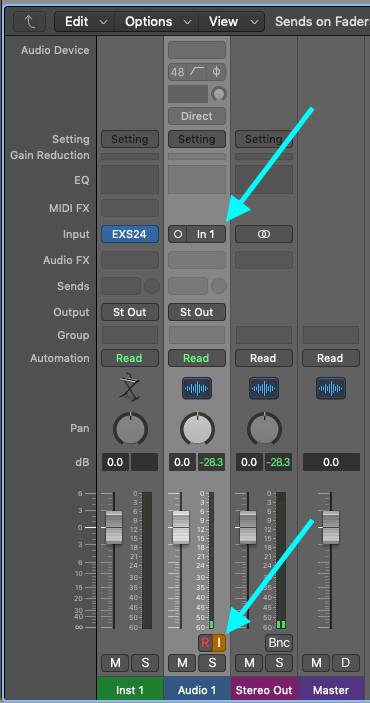 You can then alter the volumes of each of your inputs using the channel faders. You can also add effects to the inputs such as compression and EQ, and transmit the sounds of any software instruments the DAW has. You will need to ensure the buffer size is set quite low in your audio settings to avoid sync issues between your video and your audio, however.
As iShowU Audio Capture is no longer supported on modern macOS versions, SWB Audio App is the recommended replacement for macOS 11 Big Sur or later. See this article for reference.