This article shows you how to record audio into Audacity via your Scarlett 2i2 2nd Gen audio interface on Mac. Note these steps are the same for all other Focusrite interfaces.
1) Connect the Scarlett 2i2 2nd Gen interface and open Audacity
2) Ensure 'Core Audio' is selected and the Scarlett interface has been set as the Input and Output device.

3) If you want to record off just the first input of your Scarlett 2i2, select '1 (Mono) Recording Channels'. If you want to record a stereo source (i.e inputs 1&2), you will need to select '2 (Stereo) Recording Channels'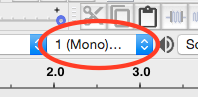 4) Now, connect your guitar, bass, microphone etc to the Scarlett 2i2 and ensure the light around the gain dial lights up green when you play the guitar / bass, sing into the microphone etc. If it doesn't light up, turn the gain dial up. If it lights up red, turn the gain dial down.
5) Click the record button in Audacity. The project will automatically start recording. Click the 'Stop' button to stop the recording. You can then play the recorded audio back by clicking the 'Play' button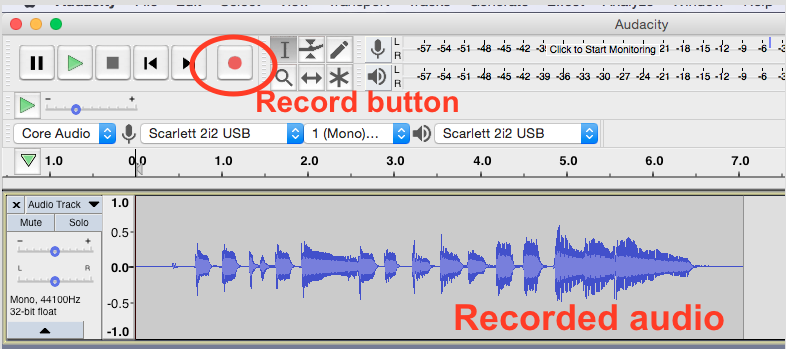 If, after the above, you still cannot see an audio signal, please see this article:
I cannot get audio signal into my software since upgrading to macOS 10.14 (Mojave) or 10.15 (Catalina) on my Mac
If needed, our Technical Support team can be contacted here