Applies to: Saffire (whole range)
There are an increasing number of PC laptops appearing on the market with Thunderbolt™ ports and no Firewire port. Any PC users with a Thunderbolt™ port only will require the Apple Thunderbolt™ to Firewire adaptor to connect any of the Focusrite Saffire range of interfaces to their computer.

The use of the Apple Thunderbolt™ to Firewire adaptor has been tested with all Saffire interfaces on PCs and is officially supported on the following Thunderbolt chipsets:
Cactus Ridge
Redwood Ridge
Plans to test the Falcon Ridge chipset are in place so please refer to this article for updates in the near future.

As the Thunderbolt™ to Firewire adaptor is an apple device, it has not been certified with Microsoft.

Therefore, when connecting to a Thunderbolt port on Windows for the first time, you may see the following message appear on screen: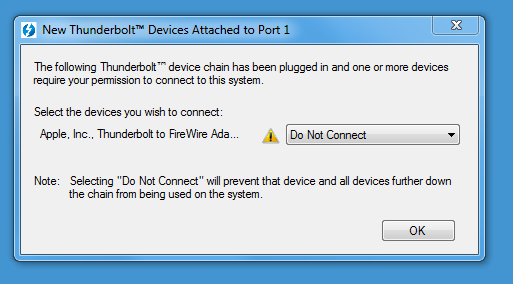 When this message appears, click the drop down menu and choose the option "Always Connect".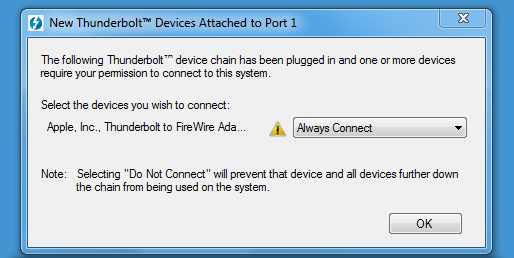 At this point another message will appear on screen:





When asked "Would you like to continue to connect to this device?", click "Yes". You should only have to go through this process the first time the adaptor is used.

N.B: Although the Saffire Pro 14, 24 and 24 DSP have all been seen to work successfully without the power adaptor, we always recommend that customers use the included 12V power supply when connecting their Saffire via the Apple Thunderbolt™ to Firewire adaptor.