Applies to: Vocaster Range
If your Vocaster is not appearing in Vocaster Hub or in your System Sound Setting on Windows or Mac first check the following:
Is the Computer Symbol Light on the front of the Vocaster lit up Red?

If so then the Vocaster might be receiving some power but not able to communicate. Check that the USB cable is fully inserted into the Vocaster and PC or Mac by re-connecting the USB cable.

Try using the Vocaster directly connected to its own USB port on your PC or Mac
If you still have issues check if the Vocaster is appearing on your PC or Mac
Windows
On Windows systems, you can look in Device Manager to check your interface is being listed correctly. To access this:
Right-Click on the 'Start' icon > Device Manager.
Focusrite interfaces should appear under both: 'Sound, Video & Game Controllers' and 'Focusrite Audio.'
If your interface is not shown in Device Manager, please test another USB cable and another USB port. If you are still unable to see the interface, please Contact Support.
macOS
To check if the interface is appearing as connected:
Click the Apple logo (top left of your screen) > About This Mac > System Report > Hardware > USB, or Thunderbolt.
If your interface is being seen at a hardware level, your interface model will be displayed in the main window.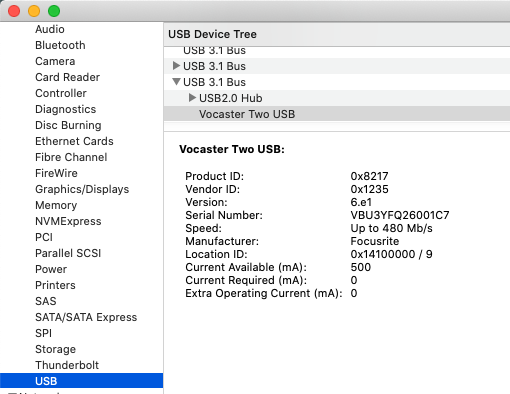 If your interface is not shown in System Report, please test with another USB cable and another USB or Thunderbolt port. 
If this article hasn't helped you, please feel free to search again at the top of this page or, to contact support, please click here.