Applies to: Scarlett Solo and 2i2 3rd Gen
When using the Scarlett Solo or 2i2 3rd Gen, the Output Routing section in Focusrite Control is not used. It is therefore correct to see the message 'Output Routing is not Supported on this Device'.
This is because these devices only have two output channels and stereo playback from software on your computer will be automatically routed to the stereo outputs on the interface.
If you connect a Scarlett Solo or 2i2 3rd Gen to your computer and open the Output Routing tab in Focusrite Control, you'll see the message "Output routing is not supported on this device". This is entirely normal with these models and does not stop audio from your computer from being played through the outputs on the Solo or 2i2.
Enabling Direct Monitor by pressing the Direct Monitor button on the front panel of these interfaces will also route the hardware inputs directly to the outputs.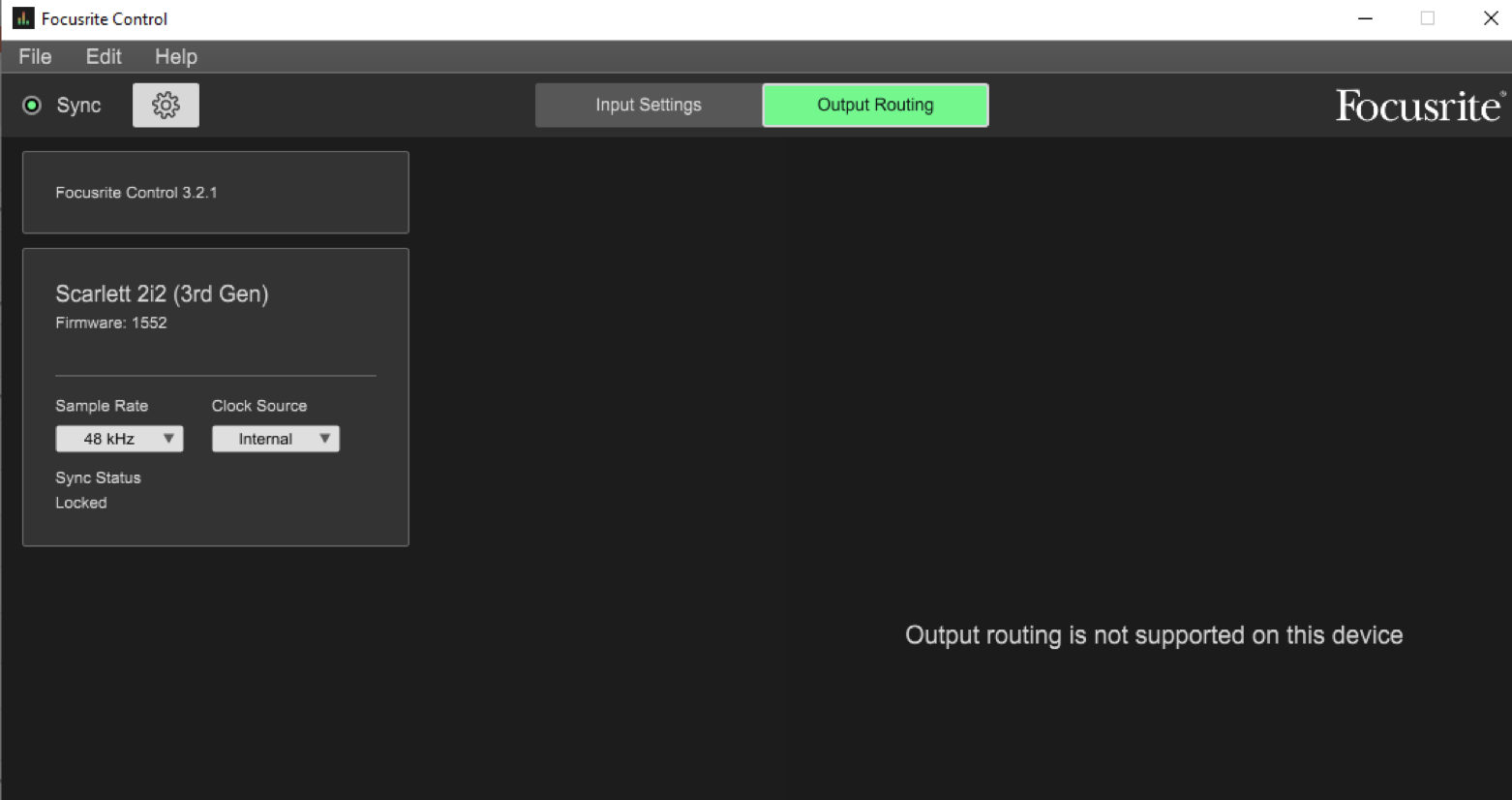 On other Scarlett interfaces in the range that have a higher number of output channels, Focusrite Control can be used to adjust the routing of signals to the outputs. With compatible interfaces, Focusrite Control is the application used to adjust hardware settings, such as enabling "Air" mode or toggling between "Line" and "Instrument" inputs.
Further Troubleshooting
If you have a Scarlett Solo or 2i2 3rd Gen and you cannot hear audio from speakers or headphones connected to the outputs on the unit itself, please try the following:
Make sure the interface is selected as the audio output device for your computer. On a Mac, you can find this in System Preferences > Sound. On a Windows PC, you can find this in the Windows Sound Panel > Playback.
Mac:
Windows:
If you're playing audio from a digital audio workstation (DAW), make sure the interface is selected in the audio settings.
Try another pair of speakers or another pair of headphones. If you're using speakers, you should test with other audio cables and if you're using a pair of headphones that need an adaptor to connect them to the interface, test another adaptor.
Make sure the Monitor dial on the interface is turned up. On the Solo, one dial controls the volume to the speakers and the headphone outputs, whereas on the 2i2, there are separate dials for the speaker and headphone outputs.
If you are trying to use Focusrite Control for iOS on an iPhone or iPad please see this article instead: Focusrite iOS Control || My interface isn't appearing in the app!