Applies to: Scarlett 18i8 3rd Gen & Scarlett 18i20 3rd Gen
A completely new feature on the Scarlett 18i8 and 18i20 3rd Gen models is the 'ALT' function, which provides secondary monitor speaker switching. This lets you connect a second pair of monitor loudspeakers to Line Outputs 3&4 and switch between the pairs to reference your mix on a different set of speakers. The ALT function is configured and selected from Focusrite Control.
When Speaker Switching is enabled, the main monitor mix, i.e what is currently routed to Line Outputs 1&2, is copied to Line Outputs 3&4.
To set up speaker switching
Connect a second pair of powered speakers to outputs 3&4 on the back on your Scarlett 18i8 or 18i20 3rd Gen interface.


Enable speaker switching in Focusrite Control as shown below.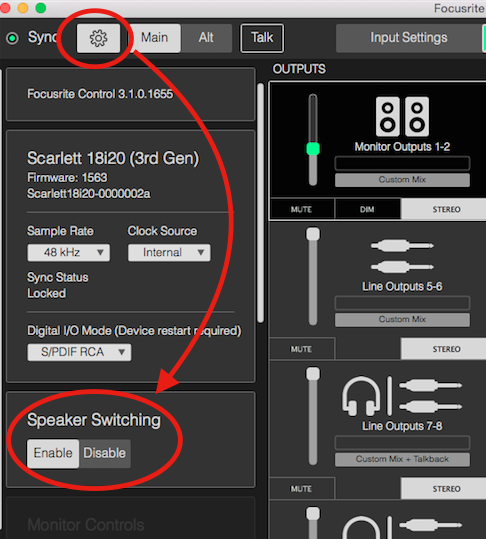 3. You can then switch between your main monitors and the secondary pair by clicking on the on-screen MAIN and ALT buttons (the 18i20 also has a button for this on its front panel). When ALT is active, the main mix output will be fed to the LINE OUTPUTS 3 and 4 instead of 1 and 2, and the green ALT LED will light to confirm this. 

Further information 
Note that as you switch between MAIN and ALT, the Line Outputs feeding the pair of speakers not in use are muted. When Speaker Switching is disabled, Line Outputs 1 to 4 are all initially muted (for safety); you will need to unmute the appropriate outputs in Focusrite Control. Please see the Focusrite Control manual for more details of Speaker Switching.
If you require any further information, please contact Technical Support here