Applies to: Scarlett 6i6, 18i8, 18i20 + Saffire range.
Many users want to use their Scarlett or Saffire for live streaming programs like Skype or other VOIP programs.
Most VOIP programs are only able to send a single Mono stream to the internet, so they are restricted to the first input on any audio device. Usually, with the built-in microphone on your computer, you never notice this because even though it records on two channels the two microphones are so close to each other their signals are identical.
Some select programs may be able to address the first two inputs of an audio interface and send a stereo stream to the internet, so if this is the case you can alter these setting to create a Stereo Mix rather than a Mono Mix.
You can use the Mix feature on Scarlett MixControl and Saffire MixControl to create a Mix-Minus. This will blend your inputs into one Mono Signal which you can route back to Input 1 so that Skype can receive it.
The following example uses a Scarlett 18i20 and Scarlett MixControl and the Mix contains a 7 microphone set up for the Skype call.
1. Open Scarlett MixControl and click a new Mix Tab, such as Mix 3. We will use Mix 3 to create our Mix Minus. In Mix 3 mute Input 1 to avoid a feedback loop.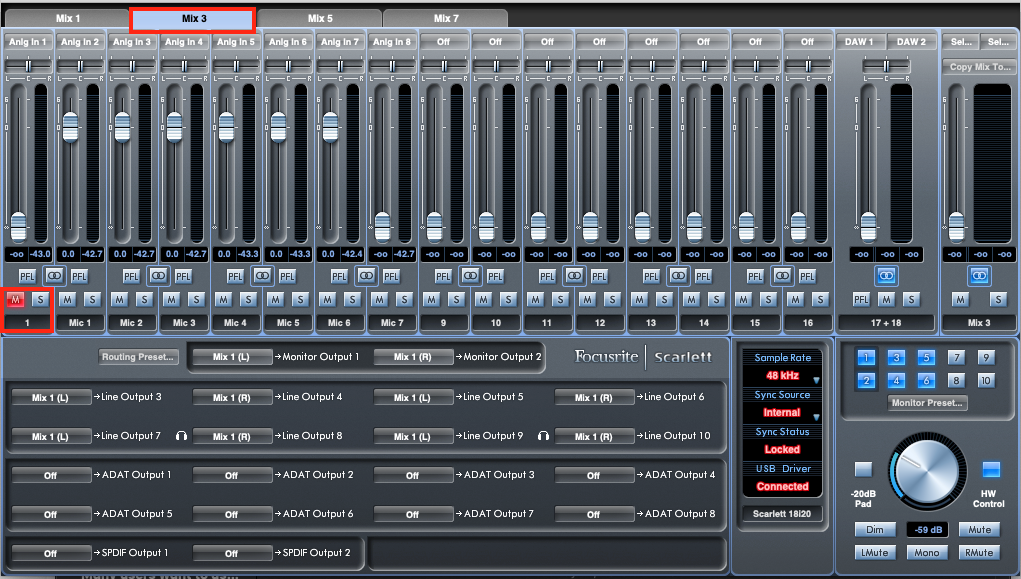 2. Mix 3 contains a 7 microphone set up for the Skype call. In order to get the signal of all 7 microphones into Skype, route Mix 3 to an output on the Scarlett 18i20. In this example, we will be routing Mix 3 to Output 3.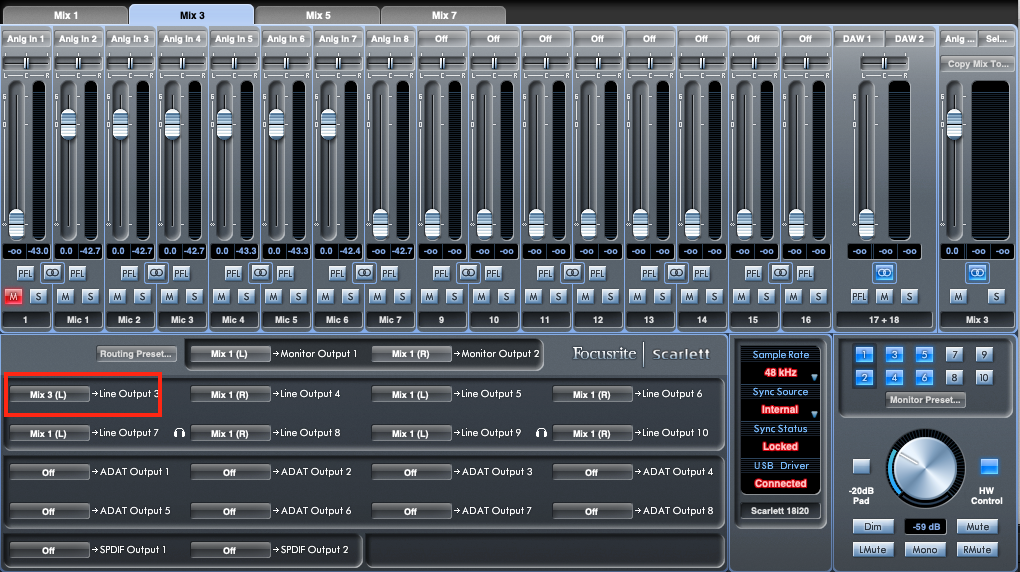 3. Using a TRS-TRS 1/4" cable, connect one end of the cable to Output 3 and connect the other end of the cable to Input 1 as shown below.

4. Open Skype > Audio & Video Settings and set the Scarlett 18i20 as the Input device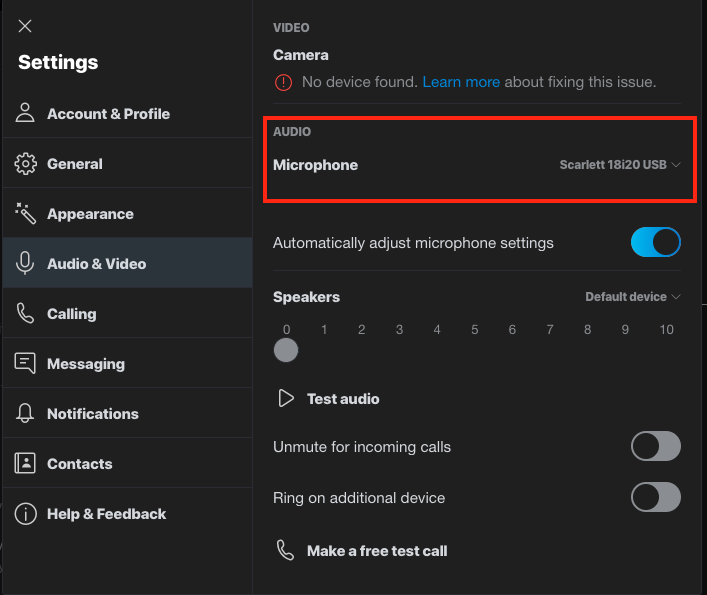 5. Raise the gain on Input 1 until the desired signal level is reached.
You are now ready to start your Skype call. You can use Mix 3 in Scarlett MixControl to mix the live conference.
You can record all of your microphone inputs in your recording software on individual tracks and you can also record Mix 3, which contains the combined microphone signals, on a track using Input 1. This is a great set up to have if you are running a live stream and want to do a final mix later, but also keep the live Mono Mix for back up.
None of the adjustments made to the channel faders in MixControl affects the microphone signals being recorded in your recording software.
The steps above are the same when creating a Mix-Minus for the Saffire interfaces using Saffire MixControl. Lastly, please note that it is not possible to create a Mix-Minus with the Scarlett Solo, Scarlett 2i2, and Scarlett 2i4 because these interfaces do not use Scarlett MixControl.