Applies to:
Scarlett 4th Gen
If your Scarlett is unable to detect a signal while the Auto Gain process is running, Focusrite Control 2 will present you with the following error message: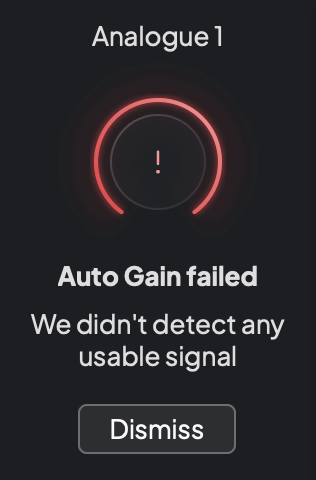 If you see this error message when trying to use Auto Gain, we would recommend trying the following troubleshooting steps:
Ensure the input you are using has something connected to it.

If using a condenser microphone, ensure that 48V is turned on.

Ensure that you are making sound while the Auto Gain process runs.

Try turning up the gain on the input you are using to 25-50% before enabling Auto Gain, as it might be that the signal currently is too quiet for the Scarlett to detect.
If this article hasn't helped you, please feel free to search again at the top of this page or, to contact support, please click here.