Applies to: Scarlett 2i2 4th Gen
The Scarlett 2i2 4th Gen needs at least 5V @ 0.9A in order to work correctly. Most USB ports on modern computers will supply this. However, if this is not being supplied reliably by your computer's USB port or by an external power supply, the USB icon on the front of the unit will flash red.
The 2i2 may still show up as an audio device in your computer's Sound Settings, however, no audio will go to the 2i2's outputs, and it won't connect to the Focusrite Control 2 software.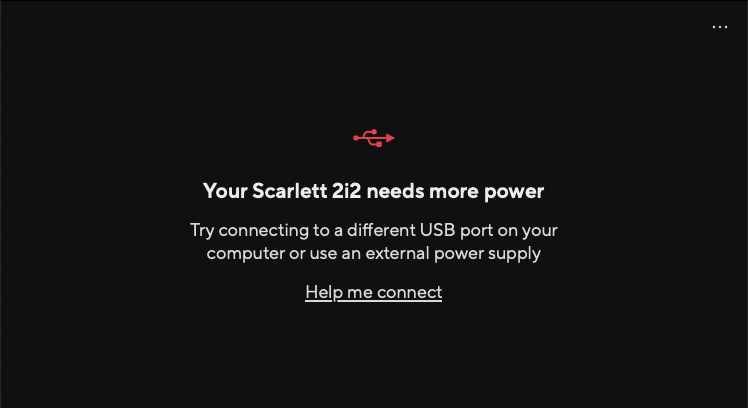 Here are some steps you can try if you come across this issue.
Connect your Scarlett 2i2 to a different USB port on your computer
It's likely a different USB port on the same computer will supply enough power.
Try a different USB cable
USB cables longer than two metres can sometimes cause issues. Ensure the replacement USB cable is shorter than this. For more information about USB cables, please see here.
Power your Scarlett 2i2 from an external power supply/adapter
As well as the main USB port, the Scarlett 2i2 has an extra port on the rear panel, labelled 5V DC, which you can connect an external power supply to if none of the USB ports on your computer supply enough power.

You can use any 5V USB power supply, such as those supplied with mobile phones and tablets. You will need a second USB cable to connect from the power supply to the 5V DC port on the 2i2. The 5V DC port on the 2i2 is a USB-C type port. The second USB cable needs to have USB-C on one end and either USB-A or USB-C on the other end, depending on the type of port on your power supply.
Steps to connect:
Disconnect the original USB cable from the port labelled 'USB' on the 2i2
Connect the second USB cable to the power supply
Connect the other end of the second USB cable to the 5V DC port on the 2i2
Connect your power supply to a mains power socket and turn it on
Reconnect the original USB cable from your computer to the port labelled 'USB'