Dieser Artikel bezieht sich auf die Audio-Interfaces der Scarlett-Serie (1st und 2nd Generation), Forte und Saffire 6 USB (1.1 und 2.0)
Nein, Focusrite USB Audio-Interfaces benötigen einen USB-Treiber, um an einem Windows PC verwendet werden zu können. Der aktuellste Treiber, der installiert werden muss, bevor das Audio-Interface erstmals mit dem Computer verbunden wird, kann entweder aus dem Benutzerkonto, oder von unserer Webseite herunter geladen werden.
Download aus dem Benutzerkonto.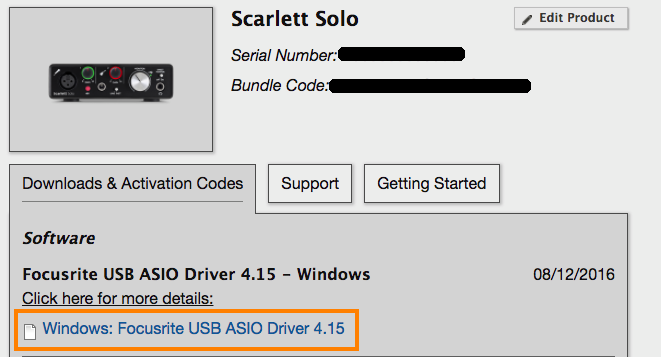 Download von unserer Webseite.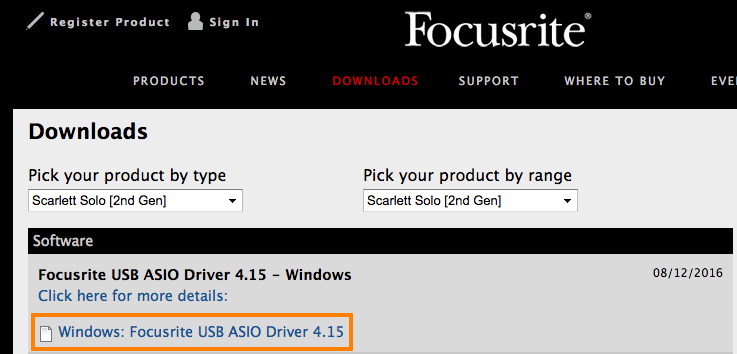 Die USB-Treiber der Scarlett-Modelle 6i6, 8i6, 18i6, 18i8 und 18i20 werden zusammen mit der MixControl (1st Generation), bzw. der Focusrite Control (2nd Generation) installiert. Der USB-Treiber für Forte wird zusammen mit der Forte-Control installiert.
Bitte beachten Sie folgende Information (Stand 10.04.2017):
An update for Windows 10 that is available from the 11th April 2017 (version 1703, informally known as the 'Creators' update) includes the addition of a 'Microsoft USB 2.0 Audio Class Driver'. This driver is assigned to USB 2.0 audio devices that do not have any other drivers from the manufacturer installed for them. This means that, if you don't install the driver for your device by following the steps above and instead connect your interface to the computer without installing any drivers, the Microsoft USB 2.0 Audio Class Driver will be assigned to your interface instead. At the time of writing, this driver does NOT work with Focusrite USB devices.
If the Microsoft USB 2.0 Audio Class Driver is assigned to your device then you will still see it appear as a Playback and Recording device, however you will be unable to play any sound back through it and you may encounter errors when trying to playback or record. You can check which driver is currently assigned to your interface by going to Control Panel > Device Manager, then expand the 'Sound, video and game controllers' section. Double-click on your interface in this section and then go to the 'Driver' tab to reveal the driver version currently assigned to that device. If this version begins with a '10' as per the screenshot below then this is the Microsoft driver - if that's the case, please follow the steps at the beginning of this article to install the latest Focusrite driver instead.